Forza Motorsport 7: McLaren Senna und Freischaltung exklusiver Autos
Turn 10 Studios stellt ein neues Spotlight-Fahrzeug, aktualisierte Forza Race Regulations und die Freischaltung ehemals exklusiver Autos bereit
(MST/Speedmaniacs.de) - Für Forza Motorsport 7 steht seit Dienstag das April-Update mit neuen Features und Bugfixes bereit. Unter anderem dürfen sich Logitech G920-Lenkradbesitzer über Fehlerkorrekturen freuen. Auf Wunsch der Spieler hat Turn 10 Studios außerdem den Bereich Audio überarbeitet und verbessert die V12-Motorgeräusche ebenso wie die Sounds einiger anderer Fahrzeuge.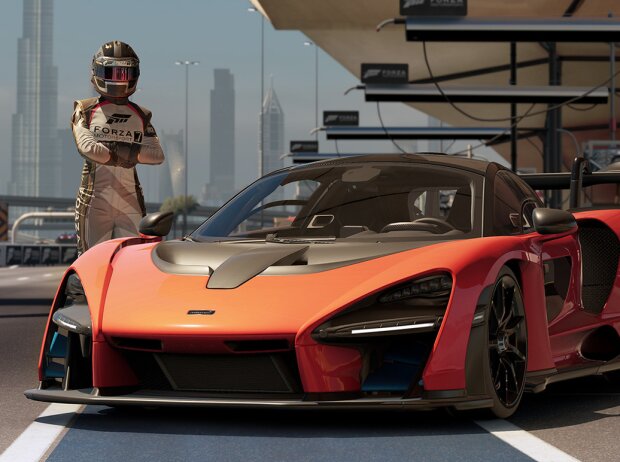 Das Spotlight-Fahrzeug des Monats April 2019 ist der McLaren Senna Zoom
Als Spotlight-Fahrzeug des Monats wurde der McLaren Senna (2018) ausgewählt der nicht nur Sportwagenfans ansprechen dürfte. Die mit dem März-Update eingeführten Forza Race Regulations (FRR) wurden weiter verfeinert und werden zudem mit einer neuen Grafik visualisiert. Statt einer "Under Investigation"-Mitteilung, wird nun besser kommuniziert weshalb eine Bestrafung nach dem Verlassen der Strecke auferlegt wurde oder nicht. Ausgesprochene Strafen fließen nun in das Rennergebnis des Post-Race-Leaderboard ein. Hierbei wird auch die Änderung der Platzierung (mit/ohne Strafe) berücksichtigt. Im Fahrzeugauswahlmenü gibt es nun die Option direkt zum Hersteller zu wechseln, was die Auswahl des gewünschten Wagens erleichtern sollte.
Freuen dürfen sich die Gamer auch über die Aufhebung des Exklusivitätsmerkmals von 35 Fahrzeugen. Lediglich die Vorbestellerautos und solche Vehikel die Bestandteil der Forza Drivers Cup Karriere-Belohnungsstruktur sind bleiben gesperrt.
u#Freigeschaltete ehemals exklusive Fahrzeuge:#u
-1995 BMW 850CSi Forza Edition
-1991 BMW M3 Forza Edition
-2016 Cadillac ATS-V Forza Edition
-2012 Cadillac Escalade ESV Forza Edition
-1957 Chevrolet Bel Air Forza Edition
-1970 Chevrolet Chevelle Super Sport 454 Forza Edition
-1964 Chevrolet Impala Super Sport 409 Forza Edition
-1988 Chevrolet Monte Carlo Super Sport Forza Edition
-2014 Chevrolet Super Sport Forza Edition
-1969 Dodge Charger Daytona HEMI Forza Edition
-2013 Dodge Dart GT Forza Edition
-2012 Ferrari 599XX Evoluzione
-1956 Ford F-100 Forza Edition
-2017 Ford F-150 Raptor Forza Edition
-2017 Ford F-150 Raptor Project Scorpio Edition
-1981 Ford Fiesta XR2 Forza Edition
-1995 Ford Mustang Boss 302 Forza Edition
-1993 Ford SVT Cobra R Forza Edition
-2014 Ford FPV Limited Edition Pursuit Ute Forza Edition
-1946 Ford Super Deluxe Woody Wagon Forza Edition
-1977 Holden Torana A9X Forza Edition
-1997 Honda Civic Type R Forza Edition
-2016 Honda Civic Type R Forza Edition
-1993 Jaguar XJ220 Forza Edition
-1999 Lamborghini Diablo GTR
-2016 Mazda MX-5 Forza Edition
-2013 Mercedes-Benz A 45 AMG Forza Edition
-2016 Mercedes-Benz C 63 AMG S Coupe Forza Edition
-2012 Mercedes-Benz C 63 AMG Coupé Black Series Forza Edition
-1965 MINI Cooper S Forza Edition
-2012 MINI John Cooper Works GP Forza Edition
-1987 Pontiac Firebird Trans Am GTA Forza Edition
-1980 SUBARU BRAT GL Forza Edition
-1998 SUBARU Impreza 22B STi Forza Edition
-1998 TVR Cerbera Speed 12
u#Forza Motorsport 7 - April 2019-Update-Changelog:#u
GENERAL
-Fixed an issue where the Logitech G920 wheel would pull left when the center spring and damper settings were set to 0.
-Fixed an issue with the Logitech G920 wheel where the wheel would rotate and lock to full left during the "3-2-1? race countdown sequence.
-Fixed an issue where players would encounter "soft lock? after completing an Autocross Rivals event and then attempt to continue past the event result screen.
-Fixed an issue where leaderboard times from Class-based Rivals events were pulling data from non-Rivals event leaderboards, thus projecting inaccurate ghost car laps for players.
-Added a "Don't Show Message Again? option for the car-specific wheel tuning tutorial flyout.
-Removed duplicate cars from appearing in Replays when racing against no Drivatars in Free Play.
TRACKS
-Fixed an issue on Rio reverse ribbons where invisible collision would cause player to crash when driving close or rubbing against the barrier.
-Fixed an issue on Daytona where part of the track environment is missing when in tuning and upgrade menus.
-Fixed an issue where dirty lap indicator would not show on the mini scoreboard in the Public Multiplayer Open Track Day Meetup hopper.
-Fixed an issue where Brands Hatch pit exit would jostle the player's car upon exiting and before player gained control of vehicle.
FORZA RACE REGULATIONS
-With the Public Beta hopper (coming soon in Forza Motorsport 7) players' accrued FRR penalties will now affect their final race placement in a race. (Note that these FRR penalties will not affect a player's starting grid position in the subsequent race. This functionality will appear in a future FRR update).
AUDIO
-We have made several audio improvements with the April 2019 update based on community feedback. Some highlights:
--Reworked some V12 engine audio files
--Individual engine audio updates for several other cars to fix bugs or use new source material, including for the Mazda 2-rotor engines, as well as various Porsche and Nissan engine updates.