Aktuelle Bildergalerien
Forum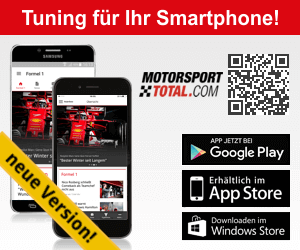 Games-Newsletter
Games-News in Ihr E-Mail-Fach!
Abonnieren Sie jetzt den kostenlosen täglichen und/oder wöchentlichen Games-Newsletter von Motorsport-Total.com!
Jetzt Newsletter abonnieren
Motorsport-Total.com @Twitter
Zwitschern mit viel PS!

Die wichtigsten Top-News erhalten Sie vorab über unseren Twitter-Channel
@MST_Hot
! Alle weiteren News aus unseren Rubriken finden Sie in unseren
Twitter-Channels
. Wann dürfen wir Ihnen etwas zwitschern?
Alle Twitter-Channels
Assetto Corsa: V1.14 für PC und PS4 bereit - Ready To Race-DLC
18. Mai 2017 - 18:58 Uhr
Kunos Simulazioni stellt für die PC- und die PS4-Version von Assetto Corsa das Update auf die Version 1.14 bereit - neue Fahrzeugerweiterung für PC-Gamer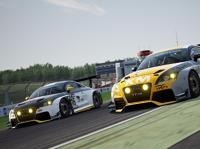 Ready To Race? Dieses Fahrzeug ist in dem kostenpflichtigen DLC mit dabei
© Kunos Simulazioni
(MST/Speedmaniacs.de) - Für die PC-Version von Assetto Corsa ist das neue Update auf Version 1.14 nun via Steam verfügbar. Zusammen mit dem 170 MB großen Patch, der eine Vielzahl an Fehlerkorrekturen und Optimierungen enthält und vor allem im Bereich der AI weitere Verbesserungen mitbringt, haben die Entwickler mit dem Ready to Race-Add-on auch das nächste kostenpflichtige DLC veröffentlicht.
Für 7.99 EUR versammelt die Erweiterung eine ausgewählte Anzahl an Fahrzeugen aus Italien, Deutschland, Großbritannien und Japan die in einem 1:36 Minuten langen Video - hier für den Ready To Race-Trailer klicken - und Screenshots zu sehen sind.
AC-Fans die an den Details zum Patch V1.14 interessiert sind, finden nachstehend das offizielle Änderungsprotokoll. Für Besitzer der PlayStation 4 ist ebenfalls eine Aktualisierung auf V1.14 über das PlayStation Network abrufbar. Damit verbundene Bonusfahrzeuge, Neuerungen und Änderungen können über den Link unten abgerufen werden.
u#Offizielle Fahrzeugliste Ready to Race-DLC:#u
-Audi R8 LMS 2016
-Audi R18 e-tron quattro
-Audi TT Cup 2016
-Audi TT RS (VLN)
-Lotus 3-Eleven
-Maserati MC12 GT1
-McLaren 570S
-McLaren P1 GTR
-Toyota Celica ST185 Turbo
-Toyota TS040 Hybrid
u#Assetto Corsa - V1.14-Changelog:#u
-New autosaved replay options and UI added to launcher main theme
-New Audi TT Cup
-New Audi TT RS (VLN)
-New Audi R8 GT3 2016
-New Audi R18 LMP1 2014
-New Lotus 3-Eleven (race)
-New McLaren 570S
-New McLaren P1 GTR
-New Maserati MC12 GT1
-New Toyota Celica ST185 Group A
-New Toyota TS040 Hybrid 2014
-Mandatory pitstop window is now related to pit entry timing (replacing old system)
-Pitstop animation enabled with oculus or STAY_IN_CAR enabled (system/cfg/pitstop.ini)
-Added Position set digital script
-Added ballast and restrictor option offline for championships and multiplayer. Work in Progress for offline quick race and race weekend UI
-Added wind algorithm
-If controller is keyboard then Pitstop app is replaced by mouse pitstop
-Mouse pitstop with Mouse Steering enabled is now working correctly
-Tweaked backfire flash flames in many cars
-Realtime app: qualify/practice colors are based on leaderboard position, race color on current position
-Added DIGITAL_PANEL script to display current position and P2P on car's external panels (Audi TT Cup)
-Added FUEL_PERC script to show fuel quantity as percentage (McLaren 570S)
-Fixed broken UI interaction due to session switching when pitstop was not finished
-Fixed rare automatic pitstop activation at car spawning in the pit
-Fixed deadzone for gamepads
-Fixed Tyre App thermal value for exploded tyres
-Minimum for automatic reset tyre on track is now 2
-Fixed flag rendering in VR with PP off (again, hopefully for real this time)
-Fixed Achievements from unlocking when car is blackflagged
-Pitstop app: new tyre pressure can only differ from the current one by 4psi (because of minimal height rule)
-Added Push To Pass system (Audi TT Cup), P2P amount depends on grid position, enabled in Practice and Race sessions only
-Added physics option for different fuel weight/density (optional section in car.ini [FUEL_EXT] KG_PER_LITER=value)
-Adjusted Lotus 98T tyre wear
-Fixed old pitstop UI from allowing more fuel when Set-up is fixed
-Added Black Flag description
-Added Online time of day multiplier (x1 to x10)
-Added track animated starting lights
-Added blink feature to RPM SERIES script (updated all relevant cars)
-Added acServerManager 1.14.0
-Added Time multiplier
-Added Wind
-Added Restrictor (BoP)
-Fixed BoP server message to client
-Fixed bug on client fixed Set-up 2nd reloading
-Added resolution string on splash screen
-Added "safe mode" initialization when first DX11 init fails, it will try again with desktop resolution and AA/Fullscreen off
-Added AI Aggression selection
-More AI differences within a single lap to generate more battles
-Added AI wing Set-up variations
-Added new Random camera mode algorithm
-Fixed driver model visibility bug in Random camera mode
-Removed AI slowdown hack for cars with spool differentials
-Improved Downshift Protection algorithm
-Fixed AI giving away green light by flooring gas 500ms in advance
-New AI algorithms for understeer detection and downshifting
-Fixed Car Engineering app sometimes reporting wrong total and sprung weights
-Added Fuel x Time on Set-up Fuel tab and pitapp
-Added best splits at the end of the race on leaderboard timetable
-Tweaked leaderboard to show player name/position even if that player has disconnected
-Updated Steam statistic reader to synchronize steam achievement
-Added "virtual desktops" functionality to in-game GUI (cyclable through ctrl+u key combination)
-Fixed session synchronization issue when session switches while a new player is joining
-AI is now using kers
-Fixed Nissan Skyline R34 having downshift protection when it should not
-Added "variation" slider for AI. It will randomize the AI level in the range selected.
-Fixed Nissan GT3 texture map on lod B
-Added player's nation flag support (not valid flag will be rendered as AC logo)
-Added new Driver Label GUI (customizable in systemcfg<br>ame_displayer.ini)
-Added nation flags on leaderboard GUI
-Tweaked opponents list to include nationality
-Update special events to include nationality
-Added Mandatory Pit warning message at the start of the race
-Added minisectors to overlay leaderboard and performance delta app, this can be disabled through [Documents]/Assetto Corsa/cfg/gameplay.ini
-Some template updates to existing content
-Porsche 911 RSR 2017 template added
-Templates added for Lotus 3-Eleven, Audi TT Cup, Audi TT VLN, McLaren 570S, Mclaren P1 GTR, Toyota Celica ST185, Maserati MC12 GT1,
-Minor graphical updates on the Porsche 911 GT3 Cup and Lotus Exige V6 Cup
-Digital display script tweaks across the board
-Fixed a bug on Nissan GTR GT3 LOD B
-Minor livery fix on Glickenhoue SGC003
-Python new functions:
getWindSpeed
getWindDirection
getDriverNationCode(CAR_ID)
getCarSkin(CAR_ID)
-Added deactivation on lateral G on McLaren P1 and P1 Gtr (optional [DEACTIVATION] LIMIT_G=[x] in drs.ini)
-Porsche 911 RSR 2017 official WEC liveries added